In episode #38, Paul talks with cardiac arrest survivor Jamie Poole, an Australian in London.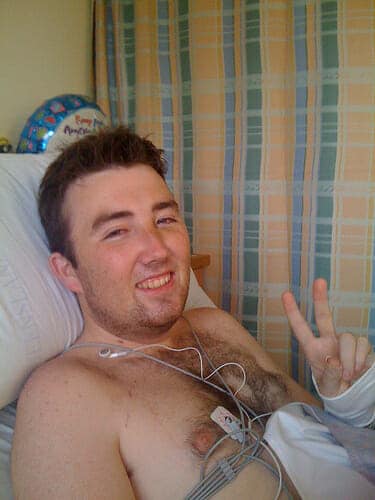 Jamie had his first cardiac arrest when he was just 20 years and puts his survival down to wearing a suit. After Jamie's first close call he gets an ICD and takes us through his experiences of having numerous appropriate shocks, of which he knows by the feeling that has become the 8 seconds of dying.
Having a serious heart condition hasn't stopped Jamie from having a positive outlook on life and his eagerness to make the most of it by seeing the world is very refreshing.
Available to listen on the link below or Spotify, Apple , Google, YouTube and your favourite podcast player.
If you enjoyed this podcast please do leave a positive review on Apple or other podcast providers as it helps us to spread the word.
Presented and edited by Paul Swindell.
Recorded January 2020.
After our first meet-up in February 2015, I realised I was not alone. It was the first time since my cardiac arrest the previous year that I had spoken face-to-face with someone who had experienced what I had. This was also true for my wife, who also happened to be my lifesaver. From that meet-up, the idea of SCA UK was born. Since then, we have achieved a considerable amount, primarily providing information, resources and support to others in a similar situation but also raising the profile of survivorship and the need for better post-discharge care. We are starting to get traction in this, and with the formation of the charity, I genuinely believe we have a bright future ahead and will make a significant difference in the lives of many who join our ranks.