There have been a number of UK celebrity survivors from sudden cardiac arrest, including actor/comedian Ted Robbins, former golf professional Bernard Gallacher and perhaps most notably Fabrice Muamba.
Fabrice Muamba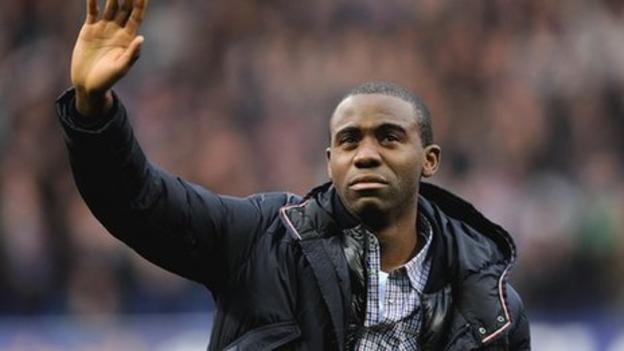 Fabrice was born on April 6th 1988 in Zaire, now known as the Democratic Republic of Congo. He moved to England when he was 11 years old and progressed to play for England under 21s. Fabrice played for Arsenal, Birmingham City and Bolton Wanderers, the team he was playing for at the time of his cardiac arrest.
On the 17th March 2012, during the televised FA Cup match between Tottenham Hotspur and Bolton Wanderers at White Hart Lane, Fabrice went into ventricular fibrillation. This medical emergency happens rapidly and involves chaotic electrical activity in the heart. It stops pumping in its usual way so oxygenated blood cannot pump from the left to right ventricles. It happened in the 43rd minute of the game, when it was said "He fell like a tree trunk."
Fabrice was lucky, lucky that there were five medically trained assistants, Johnathan Tobin, the Wanderers doctor, and a St John Ambulance Unit on site to assist him. Even luckier though, was the fact that Dr Andrew Deaner, a cardiologist at London's Chest Hospital in Bethnal Green was spectating.
Initially, two stewards wouldn't let him on the pitch to assist; they "didn't want to know." He found an older steward who then let him on the pitch to attend to Fabrice. Having arrived at the scene, he said he "could see they were doing very good CPR. They had the defibrillator ready."
Two defibrillator shocks were administered on the pitch, one in the tunnel as he was being moved by stretcher and twelve more in the ambulance.
The match was abandoned by the referee.
The London Chest Hospital was eight miles away. The North Middlesex Hospital was closer but it's believed that Dr Deaner persuaded the ambulance crew to take him to the former as there was equipment available there that the North Middlesex wouldn't have. Johnathan Tobin went with Fabrice in the ambulance and worked on him as they travelled.
Altogether, his heart stopped for 78 minutes.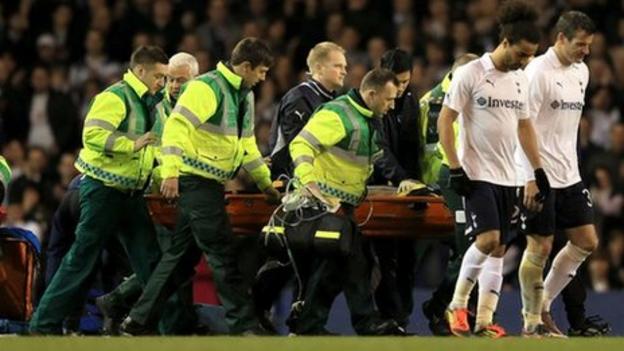 In hospital, he was kept under anaesthesia in Intensive Care.
By the 19th March his heart was beating by itself without medication and he had movement in his limbs. He was able to recognise his family members and respond to questions appropriately.
He was discharged on the 16th April having had an Implantable Cardioverter Defibrillator ( ICD) fitted.
He retired from professional football on the recommendation of his medical team. He has though, been keeping himself very busy.
In 2013, he was part of the ITV coverage team of the Africa Cup of Nations. He also worked as a co-commentator on the BT sport coverage of the African World Cup qualification third round playoffs.
He became a student at Stafford University, where he studied a BA in Sports Journalism. As part of the course he went on a work placement at BBC Northwest Tonight. He graduated with honours in July 2015.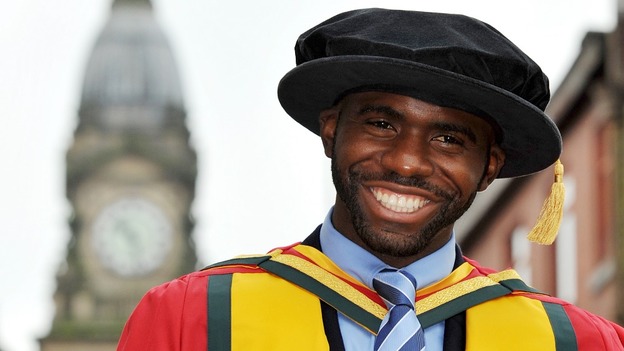 Ted Robbins
Real name: Edward Michael Robbins. Comedian, TV actor, film star and radio show presenter. His career has included roles in Brookside, Doctors and Holby City.
In January 2015, whilst appearing as Den Perry in the stage show of the Phoenix Nights at Manchester Arena, Ted suffered a cardiac arrest in front of a sold-out audience of 10,000 people. Ted was on stage performing when he clutched at his chest and fell backwards. The show had to be stopped. Thanks to the quick actions of a paramedic and a doctor who had been watching in the audience, he was given CPR.
He was rushed to Wythenshawe hospital by ambulance at 9.45pm.
He suffered with bruising to his ribs caused by the chest compressions but he recovered well. His sister, Kate Robbins, and a fellow comedienne explained, "He had had rheumatic fever as a child and he had always had a dodgy heart valve." She went on to say, "People think he's a big guy so he must have had a heart attack." He was waiting for surgery to fix the valve problem.
Some famous faces were part of the audience that night: comedians John Bishop and Jason Mansford along with Manchester United footballer, Phil Jones. The latter commented on Twitter, 'still shocked to see Ted Robbins collapse on stage.'
Bernard Gallagher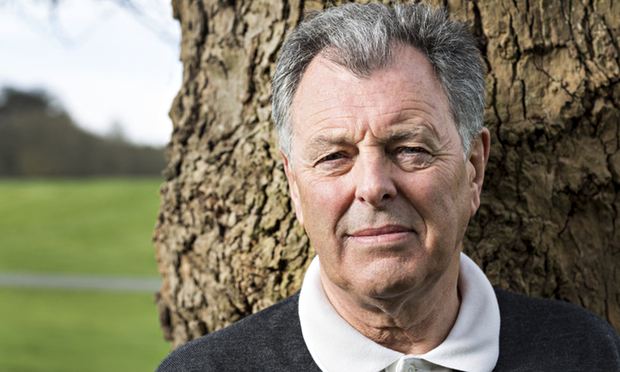 Bernard Gallagher, the former professional golfer who played in eight Ryder Cup competitions and captained Europe three times is a cardiac arrest survivor. In August 2013, aged 64, he was left in a coma for seven days. "My cardiac arrest poleaxed me- I was medically dead."
He has no recollection of what happened and has said "It's very difficult to register something which still seems surreal."
At his wife's suggestion, he leads a campaign to raise awareness of the need to have defibrillators available at golf courses and other public venues.
In total, Bernard died three times, each time the defibrillator brought him back. He said, "the danger of a cardiac arrest is that it just happens."
He was just standing up to give a speech at a golf club in Aberdeen and had just had a meal as a guest speaker. He fell to the floor like he had been hit by a boxer. Some spectators at the event thought it was part of the talk "slapstick comedy before a Ryder Cup speech."
Luckily for Bernard, two nurses were on hand at the hotel and knew exactly what to do. One, who was an acquaintance of Bernard's, said to him after "She didn't like the look of him when he stood up." She also mentioned that earlier in the day she thought he had been slurring his words.
First, Bernard was given mouth breaths for 20 minutes, followed by a shock from the hotel's defibrillator. It was administered by the hotel's Health and Safety Defibrillator Instructor.
Whilst in transit aboard the ambulance a defibrillator was needed a few more times. On board the ambulance with Bernard was Doctor Mark Bloch. Bernard said "I really was gone. I was medically dead but he kept me going. I was very lucky."
His family (Kirsty Gallagher from Sky Sports is his daughter) were informed. They called their personal doctor who was unable to offer them any assurances.
Seven days later he woke from his coma with his family sat around his bed. His had no recollection of any of the events. His last memory was of being at the airport a few days earlier in Gibraltar. Before being released from hospital Bernard was fitted with his ICD. Since his device was fitted it has gone off twice.
November that year whilst he was in his office, he fell over. He sustained severe bruising and realised something had happened. The second time was two weeks later. He had made his way upstairs on a Friday evening when Kirsty and his grandkids were there. On standing up he just knew something was happening. He shouted, "You had better come up."
He had slithered down. Kirsty and his wife reached him as he came around.
A weekend had to be spent in hospital. Two episodes of arrhythmia were recorded on his ICD. Changes were made to his medication and he's been well since. The consultant labelled it a genetic fault. As a result, Bernard is no longer allowed to drive.
Bernard said he thinks "His family have been more traumatised. It was very hard for Lesley, his wife. So, after my recovery, she said they needed to take this opportunity to help people and have this awareness campaign for defibrillators."
He concluded that he was still coming to terms with it. "It hasn't really sunk in; how close I was to not be around. But you put your trust in the doctor and if he says I'm going to be alright, I'll believe him and keep taking the pills."